Trust our experienced technicians to keep your equipment performing like new. Rosco Precision Machinery Provides a wide range of services including Calibration, Repair, Maintenance, Retrofits, Training, Support and Warranty for all the products we sell. Rosco Precision Machinery is proud to provide our customers with the best possible and most responsive service available in the industry.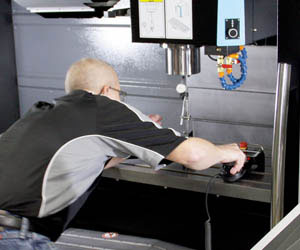 Calibration & Repair
Video and Multi-sensor Measuring Systems
ProtoTRAK Milling Machines and Lathes
HURCO Milling Machines and Lathes
Preventive maintenance and Scheduled Maintenance
Optical Comparators
Measuring & Machinery Training & Support
Video Measuring Systems Software including Zone3, Measure Mind, and Measure X
Optical Comparator DROs & Software
Prolink QC-Calc & EVOLVE SPC Software
HURCO Winmax
ProtoTRAK Software
FeatureCAM
Contract Inspection & Reverse Engineering
Coordinate measuring machines
Video and non-contact measuring systems
Laser scanning
Video Measurement and Comparator Calibration
Trust our experienced technicians to keep your equipment performing like new. Calibration and Preventative Maintenance of all critical machine components to assure mechanical and optical accuracy of stage travel to within original manufacturer's specifications. Included with service:
Cleaning & lubrication of machine and workstation
Mechanical alignment of video & optical components
All lens calibrations
All additional sensor calibrations including touch probes, lasers, 4thaxis rotaries, etc.
Software compensations for stage scales
Contact Rosco Precision Machinery for Metrology Equipment and Support in Oregon as well.